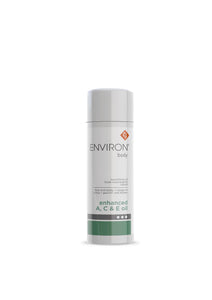 This light, finely textured multi-functional skin repair oil is rich in vitamins and antioxidants to help nourish and relieve the appearance of dry and sun-damaged skin, giving it a soft, velvety look and feel. This hydrating oil also helps to condition skin and assists in improving the appearance of fine lines, uneven tone, and sun-damaged skin. It can also be used as a moisturizer for problematic or sensitive skin.
This skin repair oil assists in shielding your skin from the effects of harsh weather conditions – especially the exposed areas such as hands, arms, décolleté, legs and feet. It helps to nourish and condition the appearance of your skin, leaving it looking and feeling soft and supple. Environ's skin hydration oil also helps to improve the appearance of problematic skin, resulting in an overall improved appearance and healthy-looking radiance.
Directions for use: 
BODY: Apply Environ Vitamin A, C, & E Oil to your body in a thin layer twice a day after a shower or bath. Massage the hydrating oil into your skin and follow with your preferred Environ sunscreen if you're going to be exposed to the sun. Use in conjunction with Derma-Lac Lotion and/or the Environ Cosmetic Roll-CIT®/Cosmetic Body Roll-CIT® to assist in firming and toning the appearance of the skin.
FACE: Add a few drops of Vitamin A, C & E Oil to your recommended Environ vitamin A moisturizer for added nourishment on sun damaged and aging skin. Apply the hydrating oil morning and evening as a moisturizer for problematic skin.