This Week's Feature Products
Neo Genesis Products for COVID-19
Since the outbreak of the COVID-19 virus, it has created a necessity to washing our hands and sanitizing many more times throughout the day. Frequent hand washing can leave the hands and forearms feeling quite dry, leading the skin to crack, rashes to form and may also lead to developing or flaring up eczema or psoriasis on the skin. These types of flare ups can feel very uncomfortable causing more inflammation in the body which will weaken our immune system.
To combat these issues Neo Genesis has created a protocol implementing their new Skin Protection Trio for hand washing and to keep the skin healthy and intact.
These products cleanse, treat, hydrate and protect the skin providing nutrients needed to keep the skin strong and vibrant at all times.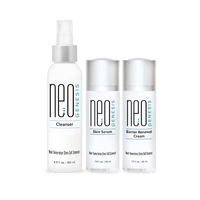 Image slide

Tell your brand's story through images
Image slide
Tell your brand's story through images
CUSTOMIZED TREATMENTS | DELIVERING RESULTS
Location
Bella Pelle Studio
1028 S. Garfield Ave
Alhambra, CA 91801
626.671.8312
Email: info@bellapelle.studio