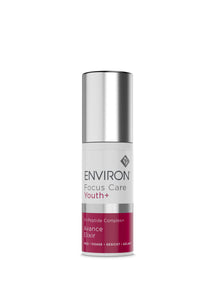 Environ Avance Elixir is a multi-function serum that contains powerful ingredient combinations that may result in skin looking radiantly even and luminous, as well as resiliently younger for longer. Improves appearance of lax, uneven tone and wrinkled skin, gives skin the look of increased volume, moisturization and smoother radiant-looking skin. Excellent at-home product to augment non-invasive clinical treatments
Directions For Use: Note: Avance Elixir may be introduced during any stage of the Vitamin STEP-UP SYSTEM™. Pre-cleanse, cleanse and tone with your preferred Environ products. Apply Avance Elixir and gently massage into the skin morning and/or evening before moisturizing with your recommended Environ vitamin A enriched moisturizer.
Cosmetic needling prior to the application of Avance Elixir is recommended for advanced Environ users. Recommended for skin that has been exposed to environmental stresses and the stress of everyday living.