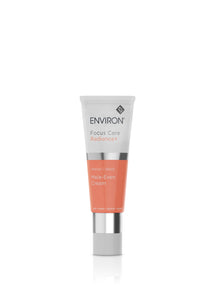 Environ Intense C-Boost Mela-Even Cream is a special oil soluble vitamin C infused cream which helps to reclaim the appearance of a younger, more healthy-looking luminous skin that has an even radiant glow. This cream helps improve the appearance of uneven skin tone, fine lines, lax and sun-damaged skin.Contains ascorbyl tetraisopalmitate which is known to prevent lipid peroxidation to help reduce the look of aging skin and provide antioxidant protection.
Directions for use: Intense C-Boost may be introduced during any stage of the Vitamin STEP-UP SYSTEM™, provided that the Environ "start low, go slow" philosophy is adhered to.
We recommend that consumers with sensitive skins use low doses of vitamin A before introducing Intense C-Boost. Pre-cleanse, cleanse and tone with your preferred Environ products.
First apply Mela-Prep Lotion to darkened areas of the skin, morning and evening, then mix equal amounts of Serum A and Serum B in the palm of the hand, gently massage into the pigmented areas of the skin morning and evening.
Cosmetic needling prior to the application of the Mela-Prep Lotion and Mela-Fade Serum System is recommended for advanced Environ users in the evening.
Finally apply Intense C-Boost to the full face (if the damage is extensive) / darkened areas (if the damage is localized) of the skin, morning and evening before moisturizing with your recommended Environ vitamin A moisturizer and a broad-spectrum sunscreen.
Ingredients: Aqua (Water), Ascorbyl Tetraisopalmitate, Caprylic/Capric Triglyceride, Hydrogenated Polydecene, Pentylene Glycol, Propylene Glycol, Glycerin, Ethoxydiglycol, Glyceryl Stearate, PEG-100 Stearate, Stearic Acid, Tocopheryl Acetate, AcrylatesC10-30 Alkyl Acrylate Crosspolymer, Disodium EDTA, Sodium Hydroxide.