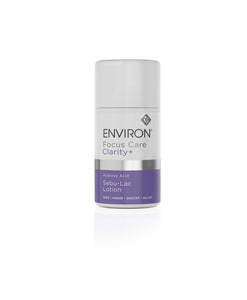 Environ Hydroxy Acid Sebu-Lac Lotion is a non-oily lotion designed to help combat the visible signs of breakouts and to assist in improving the appearance of texture and tone of breakout-prone skin. Containing a special combination of Lactic Acid exfoliators and moisturizers, it leaves the skin feeling softer, smoother and more balanced.
Helps improve the appearance of dry, scaly, itchy skin. Exfoliates and brightens uneven skin tone to. improve the appearance of texture, leaving skin feeling softer, smoother, more balanced
Directions for use: Cleanse and tone with Sebu-Wash Gel Cleanser and Sebu-Tone Clarifier. Mix equal quantities of this lotion with Sebu-ACE Oil in the palm of your hand and gently massage into the affected areas. Use morning and evening
WARNING:This product contains an Alpha Hydroxy Acid (AHA) that may increase your skin's sensitivity to the sun and particularly the possibility of sunburn. Use a sunscreen and limit sun exposure while using this product and for a week afterwards.
Avoid contact with the eyes, If contact occurs, rinse carefully with tepid water.