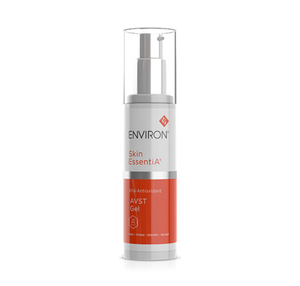 Vita-Antioxidant AVST Gel
Product Description:
This gel is the introductory moisturizing gel in the Skin EssentiA Vitamin STEP-UP SYSTEM™
Vita-Antioxidant AVST Gel is a moisture infusing gel containing the lowest concentration of vitamin A and vitamin C as well as antioxidants in a water-based formulation. It may be used as an alternative to Vita-Antioxidant AVST Moisturiser 1 for consumers that prefer a cool and soothing gel moisturizer to enhance the overall appearance of the skin.
Product Benefits:
AVST Gel has a cooling and soothing effect on the skin.
How To Use:
After pre-cleansing, cleansing and toning, apply Vita-Antioxidant AVST Gel.
Massage into the face and neck.
Intended for use twice daily, mornings and evenings.
Use a minimum of 2–3 bottles before progressing to the next level of the Vitamin STEP-UP SYSTEM™.
Vita-Antioxidant AVST Gel may be applied under any Environ moisturiser for added comfort and hydration.
Sunburn Alert:
This product does not contain a sunscreen. We recommend sensible sun practice and protection at all times.
WARNING:
Avoid contact with the eyes. If contact occurs, rinse carefully with tepid water.
Product Package Size:
50 ml (1.69 fl oz) Airless pump dispenser
Shelf Life:
18 months unopened
10 – 12 weeks period after opening
Ingredients: Aqua (Water), Glycerin, Panthenol, Polysorbate 20, Tocopheryl Acetate, Tocopherol, Ascorbyl Palmitate, Retinyl Palmitate, Ascorbic Acid, Helianthus Annuus (Sunower) Seed Oil, Triethanolamine, Beta-Carotene, Disodium EDTA, Acrylates/C10-30 Alkyl Acrylate Crosspolymer, Zea Mays (Corn) Starch, Zea Mays (Corn) Oil, Sucrose, Gelatin.