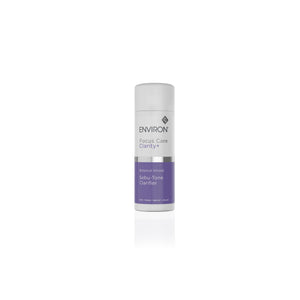 Environ Botanical Infused Sebu-Tone Clarifier is formulated with clarifying exfoliators and sebum regulating ingredients. This toner helps to remove the build-up of dead surface skin and assists in minimizing the appearance of an oily shine, leaving the skin looking smoother and more refined.
Helps to brighten the appearance of uneven skin tone for smoother and more refined skin. Antiseptic ingredients help control inflammation and redness. Helps remove buildup of surface dead skin and minimize appearance of oily shine on the skin.
Directions for use: After cleansing, tone the face using this clarifying toner on cotton wool, gently wiping the cotton wool over the face. Use morning and evening.
WARNING:This product contains Salicylic Acid as a keratolytic agent. Avoid using this product if any known allergies to the ingredients exist. Avoid if allergic to Aspirin®.
This product contains an Alpha-Hydroxy Acid (AHA) and a Beta Hydroxy Acid (BHA) that may increase your skin's sensitivity to the sun and particularly the possibility of sunburn. Use a sunscreen, and limit sun exposure while using this product and for a week afterwards.
Avoid contact with the eyes, If contact occurs, rinse carefully with tepid water.