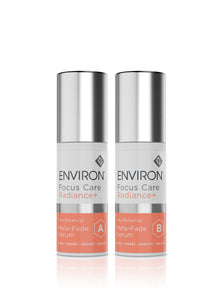 Environ Vita-Botanical Mela-Fade Serum System A + B is Environ's innovative Serum System which contains a concentrated blend of vitamins and botanicals to assist in targeting and improving the appearance of discolorations and dark spots.
Use with the daily STEP-UP SYSTEM™ to help guard against the look of photo-aging and pigmentation, improves the appearance of age spots, helps with the look of melasma, lentigines, and PIH, helps to improve the effects of hydration and maintain the feel of skin softness and elasticity and helps to supress the effects of melanogenesis. Leaves skin looking clearer and more radiant and guards the skin against the effects of external stressors.
Directions for use: Note: Mela-Fade Serum A and B may be introduced during any stage of the Vitamin STEP-UP SYSTEM™. Pre-cleanse, cleanse and tone with your preferred Environ products. First apply Mela-Prep Lotion to darkened areas of the skin, morning and evening. Then mix equal amounts of Serum A and Serum B in the palm of the hand, gently massage into the pigmented areas of the skin morning and evening.
Cosmetic needling prior to the application of the Mela-Prep Lotion and Mela-Fade Serum System is recommended for advanced Environ users in the evening.
Finally apply Intense C-Boost to the full face (if the damage is extensive) / darkened areas (if the damage is localized) of the skin, morning and evening before moisturizing with your recommended Environ vitamin A moisturiser and a broad-spectrum sunscreen.