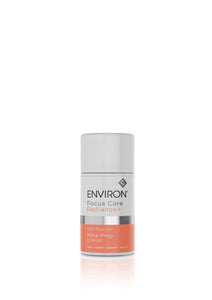 Environ Multi-Bioactive Mela-Prep Lotion is a luxurious lotion containing an expertly formulated combination of highly specialized ingredients that assist in improving the appearance of uneven skin tone and visible sun damage, leaving the skin looking brighter and more evenly toned.
A luxurious lotion of highly specialized ingredients formulated to use on small, defined dark spots or the entire face/neck. Use in conjunction with high levels of vitamins A & C. Sepi-White and niacinamide help to even the appearance of uneven skin tone and helps to clarify the look of photo induced aging leaving skin to look more radiant and healthy.
Directions for use: Pre-cleanse, cleanse and tone with your preferred Environ products. First apply Mela-Prep Lotion to darkened areas of the skin, morning and evening. Then mix equal amounts of the Mela_Fade Serum A + B System in the palm of the your hand, gently massage into the pigmented areas of the skin morning and evening.
Cosmetic needling prior to the application of the Mela-Prep Lotion and Mela-Fade Serum System is recommended for advanced Environ users in the evening.
Finally apply Intense C-Boost to the full face (if the damage is extensive) / darkened areas (if the damage is localized) of the skin, morning and evening before moisturizing with your recommended Environ vitamin A moisturiser and a broad-spectrum sunscreen.