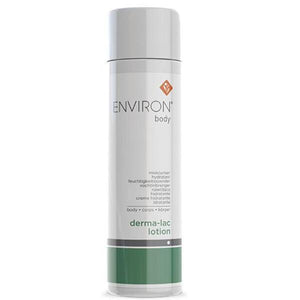 Environ Derma-Lac is a lightly fragranced body lotion that helps to soften the texture of rough areas on your skin, such as elbows and heels, whilst also helping to boost the effects of the skin's moisture levels. This revitalizing cream helps re-energize dull, tired-looking skin, and assists in gently exfoliating the skin and in improving the appearance of skin tone and texture, leaving it looking healthy and beautiful.
This exfoliating lotion softens the texture of rough, calloused skin. It re-energizes the appearance of dull skin so that it looks visibly improved and more radiant. This revitalizing cream helps to speed up the appearance of skin renewal, leaving it looking smooth and refreshed.
Directions for use: Apply Environ Derma-Lac Body Lotion to your entire body, morning and evening, to help soften and create the appearance of smoother skin. For the best overall body care, always use with your recommended Environ vitamin A body products. Combat the feeling of very dry skin and dry climatic conditions by using this revitalizing cream on the face as an occasional hydrating boost.