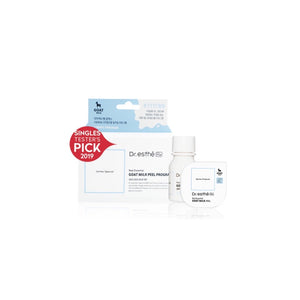 Goat Milk Peel
Utilizes goat milk and 3 exfoliants:
AHA Softens dead skin
BHA Exfoliates Oily Skin
PGA Exfoliates + Moisturizes
The exfoliating properties of alpha-hydroxy acids break the bonds between dead skin cells allowing for their removal.
Goat Milk Ampoule
Utilizes essential ingredients to soothe and brighten the skin. Like a face mask, this serum deeply penetrates the skin with anti-inflammatory and moisturizing compounds.
Scutellaria Baricalensis Root Extract (Chinese skullcap): Antibacterial, anti-inflammatory, anti-allergic also used to treat acne.
Polygonum Cuspidatum Root Extract (Japanese Knotweed): Excellent source of the antioxidant resveratrol
Propolis Extract: Antibacterial, anti-fungal, anti-viral: Propolis is known for its ability to soothe and heal the skin by accelerating the rate of cell growth. Aso helpful for decongesting the pores.
Camellia Sinesis Leaf Extract (Green Tea):Naturally rich in antioxidants, reduces redness, inflammation, and irritation.
Licorice Root Extract: Skin brightener, anti-inflammatory, firms and tightens the skin, contains UV blocking enzymes
Rosemary Leaf Extract: Helps lighten dark spots and blemishes, anti-inflammatory, reduces swelling and puffiness, helps to heal burns, soothes the skin.
Matricaria Flower Extract (German Chamomile): An antioxidant that relieves inflamed skin conditions and calms sensitized skin.
Centella Asiatica Extract (Gotu Kola): Effective in treating small wounds, hypertrophic wounds as well as burns, and psoriasis.
Glutathione: An antioxidant naturally found in human cells that neutralizes free radicals, boosts skin immunity, and lightens the skin by converting melanin to a lighter color and deactivating the enzyme tyrosinase, which helps to produce the dark pigment.